SFB1451 Advanced Methods Course on Neural Data Analysis & Machine Learning 2023
February 27 – March 17, 2023
---
The expert team of the INF project offers an Advanced Methods Course on Neural Data Analysis and Machine Learning for PhD students and Postdocs of the SFB1451 Key Mechanisms of Motor Control in Health and Disease.
Topics
Introduction to scientific programming with Python
Basic analyses of intracellular patch clamp recordings
Basics in Machine Learning (ML)
ML application 1: Decoding movements from neural population spike train data of the motor cortex in primates
ML application 2: Decoding fMRI data in humans
Advanced time series analysis of M/EEG recordings in humans
Version Control Systems (VCS); Reproducible data analyses with DataLad
Date and Venue
This 3-week course will be held from February 27 to March 17, 2023 at the Institute of Zoology of the University of Cologne (Biocenter, Zülpicher Straße 47b, 50674 Köln, room 2.009).
Organizers
Martin Nawrot, University of Cologne
Silvia Daun, Foschungszentrum Jülich & University of Cologne
Simon Eickhoff, Foschungszentrum Jülich
Vahid Rostami, University of Cologne
Faculty members
Federico Raimondo, Forschungszentrum Jülich
Kaustubh Patil, Forschungszentrum Jülich
Martin Nawrot, University of Cologne
Michał Szczepanik, Forschungszentrum Jülich
Nils Rosjat, Forschungszentrum Jülich
Silvia Daun, Forschungszentrum Jülich & University of Cologne
Vahid Rostami, University of Cologne
Tutors
Felix Schmitt, University of Cologne
Ibrahim Tunç, University of Cologne
Leonard Sasse, Forschungszentrum Jülich
Magdalena Springer, University of Cologne
Nicolas Nieto, Forschungszentrum Jülich
Shammi More, Forschungszentrum Jülich
Vera Komeyer, Forschungszentrum Jülich
Participants
Heiko Endle
Prisca Kuhnhäuser
Therese Wolfenstetter
Chantal Wissing
Vincent Küppers
Julia Schmidgen
Mingyu Yang
Jan Radermacher
Theresa Heinen
Lea Mais
Sylvia Latarnik
Carolin Semmler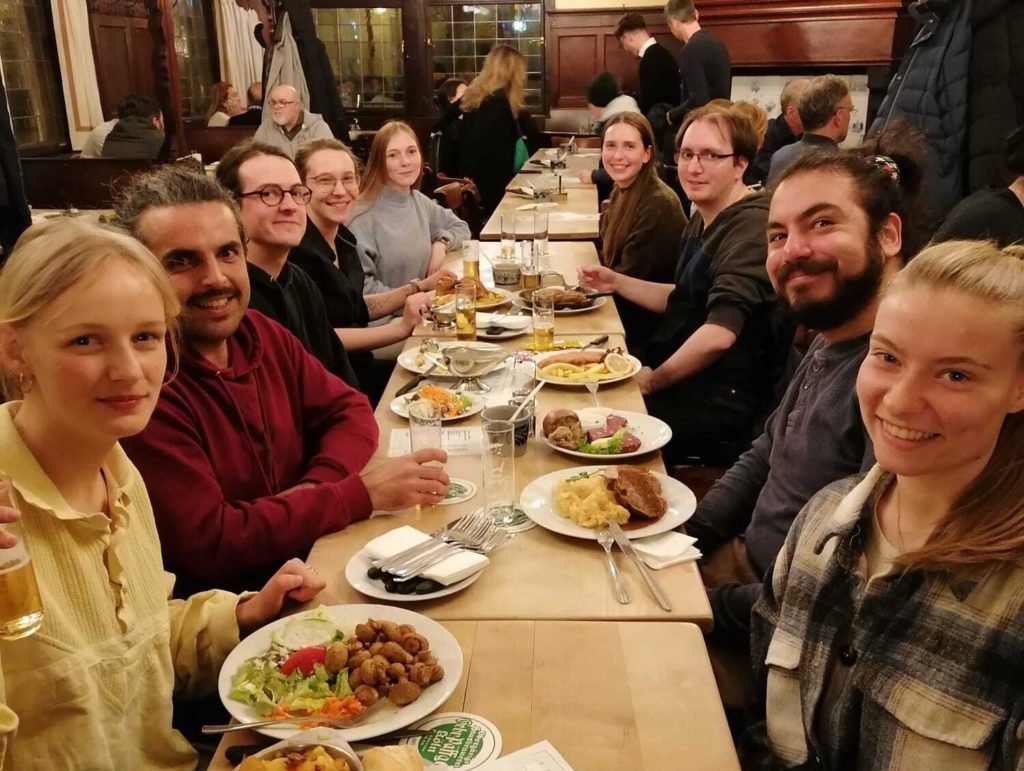 Final dinner of the course participants, faculty
and tutors at Brauhaus Päffgen, Cologne
This course takes place within the Sonderforschungsbereich (SFB) 1451 funded by the Deutsche Forschungsgemeinschaft (DFG). Further information on the SFB 1451 research consortium here!
---